A Gentleman's Guide to the Different Types of Suit Fits
Buying a suit can be a little intimidating, especially if you've never bought one before. There are so many different styles, fits, and pieces. That's a lot of decisions to make fashion-wise, and let's face it, most men aren't incredibly interested in the vocabulary and nuances of fashion. But one thing men are interested in is looking their best.
To assist you in navigating the world of luxury suits we've put together this handy guide covering the basics of what you should look for in a suit, as well as discussing the various fits and other features.
Before we dive into the three different types of suit fits, let's cover some of the basic rules of thumb that apply to all suits.
The main thing you want to keep in mind is how a given suit will frame your body. Do you want a boxier suit that will make you look bigger and taller, or do you want a figure-fitting suit that aligns with the contours of your build? These questions dance around an important concept called the overall fit. The overall fit refers to how well a suit fits your body.
The following features explain the fundamentals of what gives a suit a good overall fit:  
The suit's shoulder line should mirror your natural shoulder line, regardless of the style of fit you choose
The waistline should correspond with your actual waist dimensions
The tie should just reach your belt
The backend of a suit jacket should not extend past your bottom
Pants should not exceed the length of a single fold, at most
Two button suits are the preferred style, whereas three buttons are out of fashion
Belt and shoes should match the color
THE THREE TYPES OF SUIT FITS
CLASSIC FIT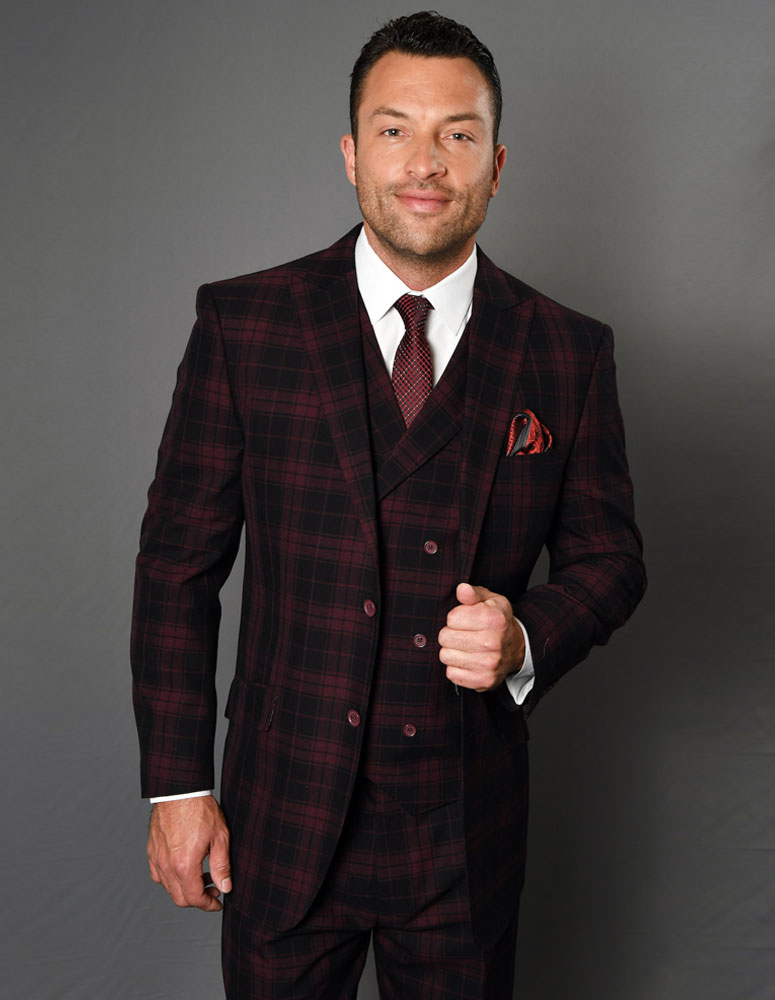 A classic fit suit is recognizable in its liberal cut through the chest and waist, leaving the wearer with plenty of room for flexibility and comfort. Although this style of suit is less constrictive than a slim or modern fit, it still shapes the body well and should not be baggy.
The pants in a classic fit suit are regularly fitted and sit on the waistline.
SLIM FIT 
Slim fit suits are what one associates with Italian or European cuts. These suits are fitted much closer to the body and don't utilize any extra fabric.
The pants in a slim fit suit are straight-legged and fit the leg tightly. They typically sit below the waist.
This style of suit is currently in vogue and continues to grow in popularity. 
MODERN FIT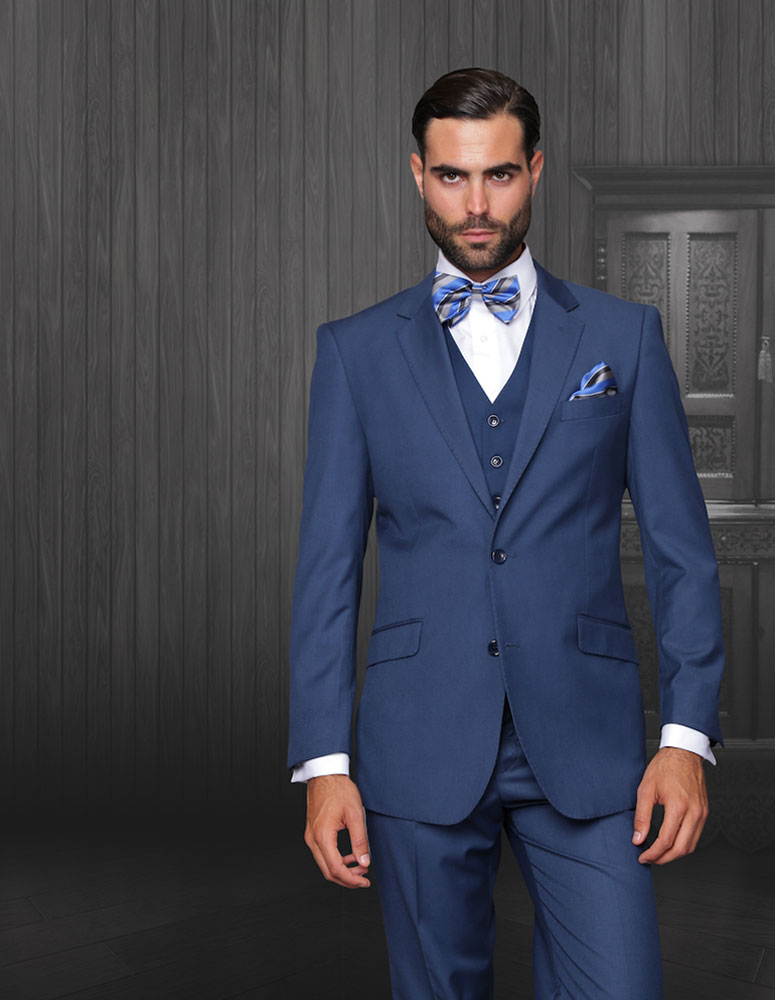 A modern fit suit falls down the middle between a classic and slim fit. While it's not cut quite as close to the body as a slim fit, it's a tighter fit than a classic.
The pants in a modern fit suit are straight legged, but with extra fabric than a slim fit pant.
TYPES OF SUIT PANTS
The only thing you really need to be concerned about, as far as suit pants go, is whether or not you want a flat-front pant or a pleated pant. While pleats have fallen somewhat out of fashion, some people still prefer them due to the extra flexibility they offer around the waist. But if you're going for a slim fit or modern fit suit, it's best to go the flat-front route.
SUIT LAPELS
There are three main types of suit lapels: notch lapel, peak lapel, and shawl lapel.
The shawl lapel is typically reserved for tuxedos or high-end jackets. You won't see shawl lapels on suits often.
Peak lapels are found almost exclusively on double-breasted suits.
Notch lapels are the standard style for everyday work attire and social events. If you're struggling over your lapel decision, notch lapels are always the safe route.
SUIT JACKET VENTS
The last aesthetic feature you need to consider when shopping for a suit is the type of vent you'd like in the back.
A center vent is a cut up the middle of the jacket.
Side vents are, as the name implies, cuts on the sides. Side vents allow you to put your hands in your pockets without furrowing the back.
The last option is no vent at all. Suits without vents give off a solid and sleek appearance.
We hope this guide has helped you gain an understanding of the different suit fits and attributes. Now it's time to find your dream suit!